This post is a roughly tidied version of my February 2023 tweets about short stories. There's a list of all stories at the very end of the post (linking to where they are first mentioned).
I've been reading more than I've been tweeting this month — I've had to keep track of a small set of stories for a research project and can't write about them yet.
I also gave a three-moods short story workshop for an interdisciplinary group of PhD candidates at the University of Queensland this month, for the Global Change Scholars Program, which was great fun.
Fascinations and encroaching interests this month include:
how to keep short stories short
plural point of view and competence plots
what nested stories do to the larger tale
the effects of inversion
the effects of light
Background and related posts:
And now, the story notes:
"Sonskins" — Dare Segun Falowo (Baffling, 2022 — mothers, disapproving of their sons' dreams, take measures) 1,095

care — defy — deceive
watch — strike — bide
distaste — vengeance — disdain
possessive — hunting — waiting
disgust — distain — dispose
There's a sticky-slippery viscerality to this story's moods, as well as to the physical descriptions — it's a vigour that sometimes stories allow to chill in favour of the body horror elements. Here the physical and emotional complement and enhance and heat each other.
It's also a story mastered by a controlling, competent (and focused plural) viewpoint, which suggests a competence-plot. And it's not *not* a competence plot, except that those stories usually clearly call for pleasure and approval of the actions taken, & sometimes delighted surprise, whereas this slips sideways, wearing a skin not quite its own…
That tight-knit plural point of view is interesting, too. Phoenix Alexander's proclamatory "We" has it (see here in the October 2022 notes). So do the respectively superior and bustling chapters from the point of view of the wives and the search dogs in Maria Dahvana Headley's novel The Mere Wife.
There are many more but I hadn't been specifically tracking this point of view (although I played with it in "On the Origins of the Population of Wakeford").
Examples that spring to mind have an interesting balance of immediacy (dragged along with the weight of this compact group) and distance (but you aren't One of Us), and a sense of competence or inevitability or triumph, like an avalanche or a tide or something inhumanly organic.
There's something going on with that point of view/voice in Kim Scott's novel Taboo, although it's subtle and doesn't declare itself obviously too early. Which is certainly a type of control.
(My earliest favourite encounter with allegedly-plural narration was that in E Nesbit's The Story of the Treasure Seekers)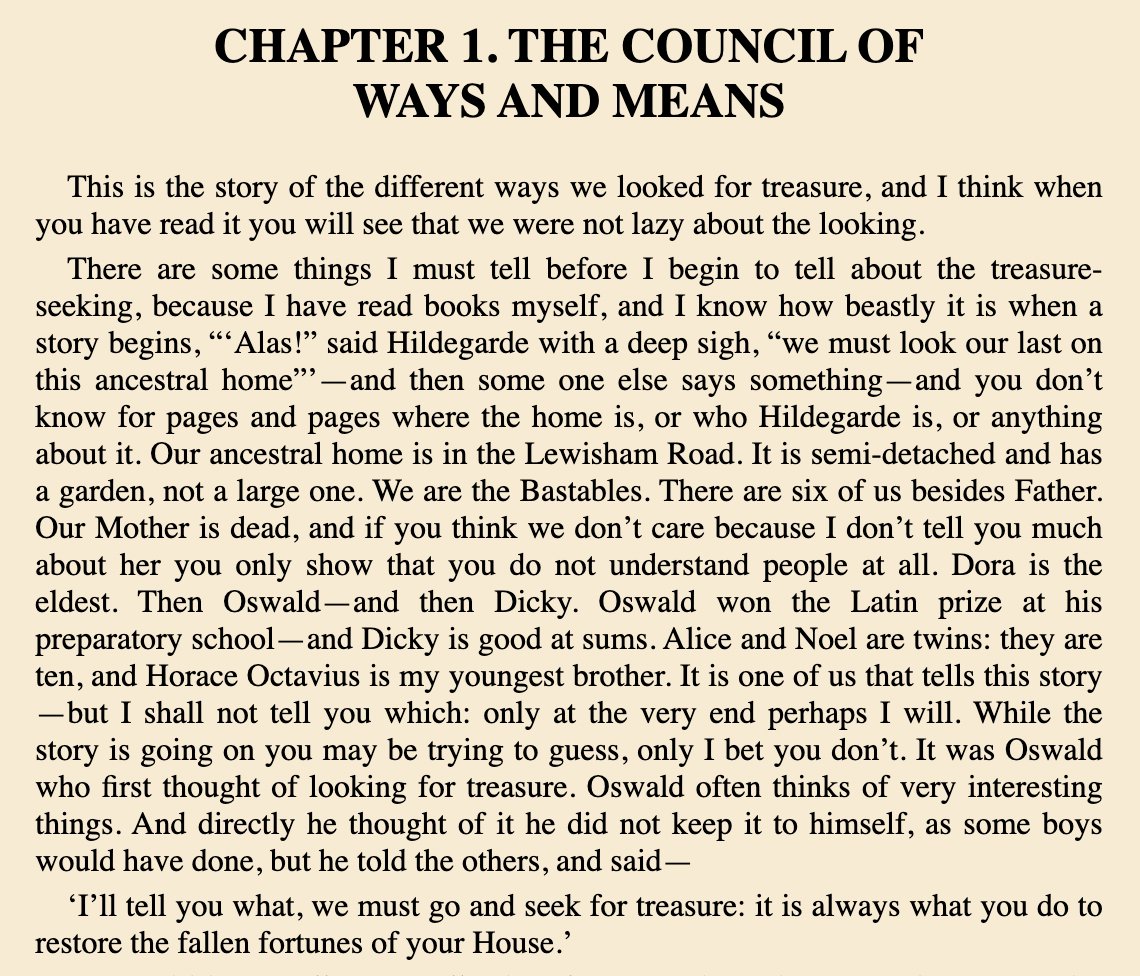 Here are some very incomplete other thoughts on point of view, mostly to keep them all together for when I come back and reconsider these notes:
"The Needle-Eye Bridge" — Millie Ho (Ex-Puritan, 2021 — returning for a family funeral, a young woman seeks connection with her distant father) 3,913

awkward — effort — peace
bits — whole — pieces
fast — measured — slow
outside — looking in — friendship
arrive — apart — connection
Something I like about this story's shape is that the path to some degree of peace with the situation isn't ultimately about healing or bringing everything together, but about coming to terms with a necessarily fragmentary approach.
That remix of the more typical "bits — pieces — whole" shape jars the whole story just off the obvious/simple, making it messy and human and imperfect, and a sequence of time in a life and relationship/s that will continue.
But that third mood with its change in pace — still rolling forward but with a little more understanding and peace — and the clarification of one small mystery, gives the story shape enough to very much be a story (vs a situation). That little mystery — really just the acquisition of a piece of knowledge that contextualises some interactions — isn't large enough to give the story a mystery-shape. But it's caught up in those fragmentary and relational facets of the story shape.
That's an intriguing example of ways to contain a billowing, unresolved (or unresolvable) sequence into a short story: pairing that which can't be resolved but only lived with that which can be answered though never wholly experienced. The little story is the anchor for the larger.
(Importantly, in this case, the little story is not a lens through which to view the larger — it swims a little beneath.)
"A Dervish Among the Graves of Ghazni" — Tanvir Ahmed (The Deadlands, 2022 — a dervish seeks someone who has passed beyond) 4,190

hungry — hollow — sated
wanting — seeking — finding
existing — departures — arrivals
comfort — separation — meetings
meetings — meetings — meetings
Something emphasised by all those versions of this story's shape is that this is not centrally a story of oppression and rebellion (although it is thoroughly infused by that). It is about a connection between two characters being doggedly pursued through and in spite of all that.
That is a useful demonstration of another way to fit a big story (sweeping geopolitical history) into a short one (by taking it below even 'human level' and onto the relentless single focus of one character).
You could flip that, of course, and consider this as an example of what could have been a smallish story (connection of two — or possibly three — characters past death) opened up by the unfolding ramifications it has for the world and the world has for it.
This is also a story that enjoys the feeling of words and specific places and the feelings of names, which that large setting permits, and to which that small story gives focus.
In relation to several of these points, see my previous notes on Tanvir Ahmed's "The Miraculous Account of Khaja Bairaq, Pennant-Saint of Zabel" (see here in the August notes) which (with more of an eye on the rebellion and revolution) demonstrates the same capacity for anchoring a billowing and beautiful tapestry of language effectively to the point.
"Pennant-Saint…" had a very thread-and-textile shape. "A Dervish…" is, appropriately, much more step-by-step, eyes in the dust.
"Sundays in the Park with Hank" — Leah Bobet (The Deadlands, 2022 — romance is impaired by the trailing dead soldiers bring home from war) 2,018

tension — snap — nurture
plead — accept — kindle
dare — breathe — connection
attempt — ache — release
An intriguing story shape — not quite a coming-to-terms with something, not quite a letting-go, not quite a turning-it-to-something-new, but some combination of all those things. A "don't hold so tight; breathe" story-shape, perhaps.
You could distil those variations on the shape into something like… "trying to make things go the way you are certain and wish to be right — feeling the failure of that in your lungs and bones — stepping back and holding hands open to let what will grow, grow".
But with rabbits in the room at the back of your skull.
"Unname Me At the Altar" — Ashaye Brown (khōréō, 2022 — a grandchild watches as their grandparent spools through ancestral names and rituals) 2,800

ritual — irregular — complete
pattern — mend — mourn
respect _ care — love
accept — learn — witness
This is story with its meanings and intentions very clearly echoed in its shape. Some stories let their structure pull against or offset what is actually going on, some use a genre-standard shape. But there's a beautifully intent unity of purpose here.
Each of the listed versions of the shape could be a description of what's happening, but looking at them alongside each other, you see how respect is modelled through ritual, how something can be learned by mending, how witnessing and mourning can be equated with love and completion.
But while a very on-point three-mood shape can sometimes keep things *too* simple, in this case the story-shape corals and contains a great deal of emotion into a dense but small story.
Following on the heels of that statement, the next set of observations might sound like a criticism, but they aren't! It's a story with a different purpose and reason for existence.
"Home@Heart" — Sameem Siddiqui (Popular Science, 2022 — the protagonist comes to terms with the privacy they've given up and the advantages their family has gained) 1,985

trapped — trapped — trapped
resist — resent — resigned
how got here — how went — what next
This is a story with a deliberately and I think consciously single (or low) ply shape — the strands of plot and intent very strictly tracking against the story moods.
I'm also beginning to think that's a necessary aspect of this sub-genre of fiction. Not a necessary *pre-requisite*, perhaps, but a fairly consistent outcome. "Home@Heart" is a story written/commissioned specifically to explore the implications of a technology. Those stories tend, by their nature, to hold very close to that central idea/question, and any plot/thematic/emotive sidelines need to be woven back in very tightly, if allowed at all — especially in such a short story.
It is still a *story*, and functions as such, and that three-mood progression is distinct and intact. However, in these purposeful exploratory stories everything is focussed on that purpose. They are story-shaped models of intellectual questions; an artist's rendering of an architectural model.
That creates an interesting tension in this story, because the story shape is one that could equally belong to a big depressing techno-thriller / cyberpunk story. The futurist-exploratory mode, however, requires a close focus on the tracing of small-scale defensible consequences.
It isn't a particularly positive take on the future (at least through the main character's eyes), but the necessary focus on the tech (through that character's pov) rather than on the character, prevents the "trapped — trapped —trapped" shape from tipping into existential horror.
"A Brief and Hideous Scrawl" — Erin Brown (Fiyah, 2022 — a ravenous creature that lives behind an opera house lights out for better pickings in the country, and finds a very obliging community) medium length

discontent — pleasure — horror
novelty — drawing conclusions — dawning awareness
behind — behind — behind
stumble in — experiment — find out
outward — maintain — flee
Something fun about this story is that if you look at the shape it has a pretty clear traditional cosmic horror shape — that "catching on" arc. (Slightly different from a comeuppance, where characters create their own situation.)
But it's not told from quite the usual point of view of that sort of story. It isn't, however, an inverted viewpoint (the big bad wolf's version of events). It's told by a secret third thing, or at least a creature from a different story type stumbling in unawares — and this also makes it a Town Mouse / Country Mouse story, which is generally a comic story shape.
That comedy creates a tension with the dawning-horror shape, letting it get fairly far into outright destruction, then pulling back.
(I read this after drawing the comparison above — there's a long consideration of this story over on Tor.com where Anne M Pillsworth describes it as an "AU crossover between City Mouse/Country Mouse and Phantom of the Opera".)
Two other things about this story's shape: I like that "behind — behind — behind" shape, for its simplicity and its zooming-in style of approaching a world. Pulling back the curtain, and then pulling back another, and then pulling it back again.
And that final "outward — maintain — flee" shape, for the clear momentum/posture assumed by the main character. / | \ It's fun, and vigorous, and also tidily *contains* a story. (I'm going to make a list of ways people keep short stories within bounds)
"The Memory of Tomatoes" — Bonnie Jo Stufflebeam (Popular Science, 2022 — on a quiet gardening day, data sharing eases relationships and health-care) 1,961

weary — busy — peaceful
tasks — purpose — connection
This story is part of a trio exploring data futures, including Sameem Siddiqui's "Home@Heart", discussed above, and Malka Older's "Shared Data" (see June 2022 story notes).
As with those stories, this is a story consciously serving an external purpose, and therefore shaped by that. The "The Memory of Tomatoes", however, has an obviously gentler mood progression — inwardly focussed and kindly mundane.
But even though that external purpose for which it was invited/commissioned takes primary position, and the events are even more slice-of-undisturbed-life than the other two stories, the story still *has* a story shape — it is a recognisable story-object.
"Folk Hero Motifs in Tales Told by the Dead" — KT Bryski (Strange Horizons, 2022 — a dead narrator wonders about the place beyond the land of the dead, while recounting tales of one who went there) 4,079

once — wait — then
tale — doubt — wonder
discovery — weighting — value
startle — hope — choose
light — light — light
This story contains and is shaped around a sequence of little self-contained (in-world) folktales. (This is a structure I'm fond of — it's the structure of Flyaway.)
Each of those little tales has its own snappy condensed shape. The centre three are trickster-shaped, the first and last more aching.
desire — quest — realise;
seek — find — frustrate;
desire — tease — trick;
promise; deliver; groan;
once — once — then.
But those sub-story shapes complement the overall story shape — they spark it up a little, yes, but there is movement in those sub-stories from desire to feeling cheated to becoming something new.
The details of sub-stories also enlarge the world and explain the narrator's reasoning, while the fact and manner of their being told builds the society and logic it all takes place within.
That overall "light — light — light" shape is intriguing, too. It's not the primary story-shape but it infuses the waiting and doubt and death of it all — the very unrelentingness of the cold light begins to feel unsustainable, as if change must happen, if not in this land of the dead, then in the dead themselves.
(Consider, as an exercise, how the story would feel and operate if instead the dead tale-tellers huddled together in eternal darkness.)
The narrator states tales are told differently in the land of the dead, and the sequence of sub-tales does move backwards (although the events in each individual tale, and the main story, *appear* to run forward in time).
This means that in effect there are two stories (the narrator's and Skullbone's) running parallel but in opposite directions, the ending of each giving meaning to the beginning of the other.
That's quite a fun technique to write, but it also contains and signposts the ends of a story quite neatly (keeping it short!) while also deepening the world/theme/tale by layering it.
Compare that to e.g. deepening the scope of a story by taking slices from a longer shape and running them side by side (see comments on Sarah Beth Durst's "Curses and Cake" in the January 2023 notes).
ALL THE FEBRUARY STORIES